"It is not about confusing the audience with the chant to try to get the amount you think you need for the items, but rather, it is about selling the item with a connection to the cause that ignites an energy amongst the audience to bid to a new level of generosity."

 

Justin Swisher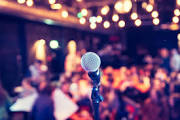 There are over 1.5 million nonprofit organizations in the United States with 16.2 billion dollars raised every year! What is your organization doing in order to inspire guests? Are you currently getting a fair share of this generosity at your yearly fundraising event?
Since 2005, Justin Swisher has had the opportunity to conduct hundreds of auctions all over the world. His competencies go far beyond just bid calling as he works with organizations not only as their Auctioneer but also as an Ambassador of each Nonprofit's Mission. His success comes from knowing how to champion a nonprofit's cause, being able to meaningfully engage audiences and inspiring donor generosity.
Allow Justin Swisher along with his passion for helping non-profit schools, churches, civic organizations, national foundations, clubs and others, bring a special blend of entertainment, knowledge of the product and specific auctioneering skills to your next event in order to maximize your returns and reach a potential you may not have realized possible.
Kevin Negandhi, Sports Anchor ESPN's SportsCenter
Dick Vitale Gala 2023
Great seeing you Justin and excellent job last night. That was a rowdy crowd and you and your crew did a phenomenal job to stay the course and raise money. Every year we praise your style and approach after the gala. It certainly stands out. Keep doing big things and looking forward to next year!!
Christine Webb, CFO
Maymont Foundation 2023
So many thanks for yet another great auction! I'm happy to be adding Maymont to your list of repeat partners that I've long enjoyed being on! 
Steve Harbaugh
Owner, Harbaugh Developers 2023
Thank you Justin Incredible job. Never did I think we would raise our entire goal in one night. You were wonderful ! To have enough funds to acquire the lot and build the house is huge ! Thanks again.